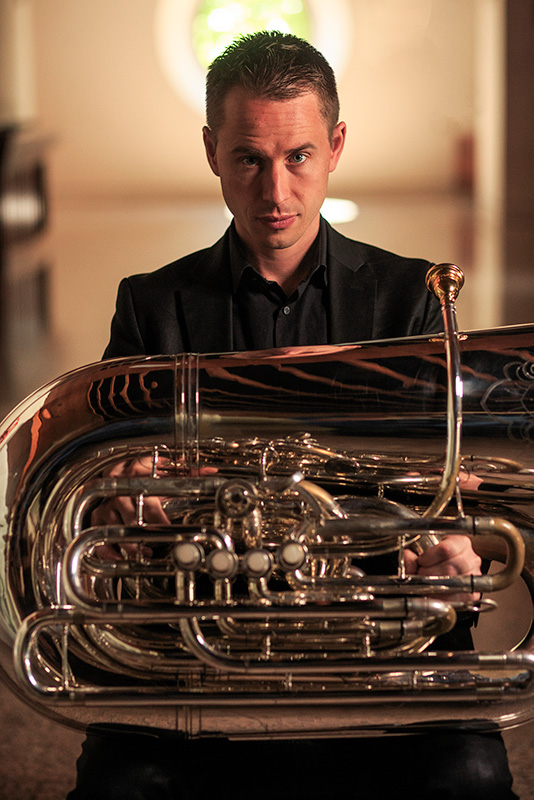 A native of Chelva (Spain), Jose Martinez is principal tuba of the National Orchestra of Spain, artistic director of FAN, Festival of Arts and Nature, cofounder of Duo2Arts, and a Chicago Luminarts Cultural Foundation Ambassador worldwide.
Martinez was a member of the Civic Orchestra of Chicago and performed as guest with the Boston Symphony and Boston Pops, Chicago Symphony, Gothenburg Symphony, Mahler Chamber Orchestra, Malaysian Philharmonic, Minnesota Orchestra, New York Philharmonic, Porto Symphony, Qatar Philharmonic, Saint Louis Symphony or the Seattle Symphony.
Jose presented masterclasses at Conservatorium van Amsterdam, San Francisco Conservatory, University of Washington, Portugal's Gravíssimo! or the University of Guadalajara in Mexico. He will forever be indebted to Mike Roylance, Gene Pokorny, Morten Agerup and Sergio Finca.
Winner of the Busan Maru Concerto Competition or the Chicago's Luminarts Foundation Solo Competition, Martinez has been a jury member for the Jeju International Tuba Competition (South Korea), National Orchestra of Spain, National Youth Orchestra of Spain, Spanish Association of Tubas and Euphoniums, and the International Mock Audition Competition for tuba.
Jose Martínez has been a member of the Chelva Symphony Wind Band since 1998.
Having studied in Spain, Sweden and the USA, Jose admires his wife's drive as CEO of Espacio Sherezade, Dance and Pilates Academy, located in the mountainous northern region of Madrid, where they live being loved by Danza (a female Shepherd Mastiff Mix doggie) and Mopa (a female Belier bunny).
More info at www.josetubachelva.com, www.fanchelva.com & www.espaciosherezade.com.