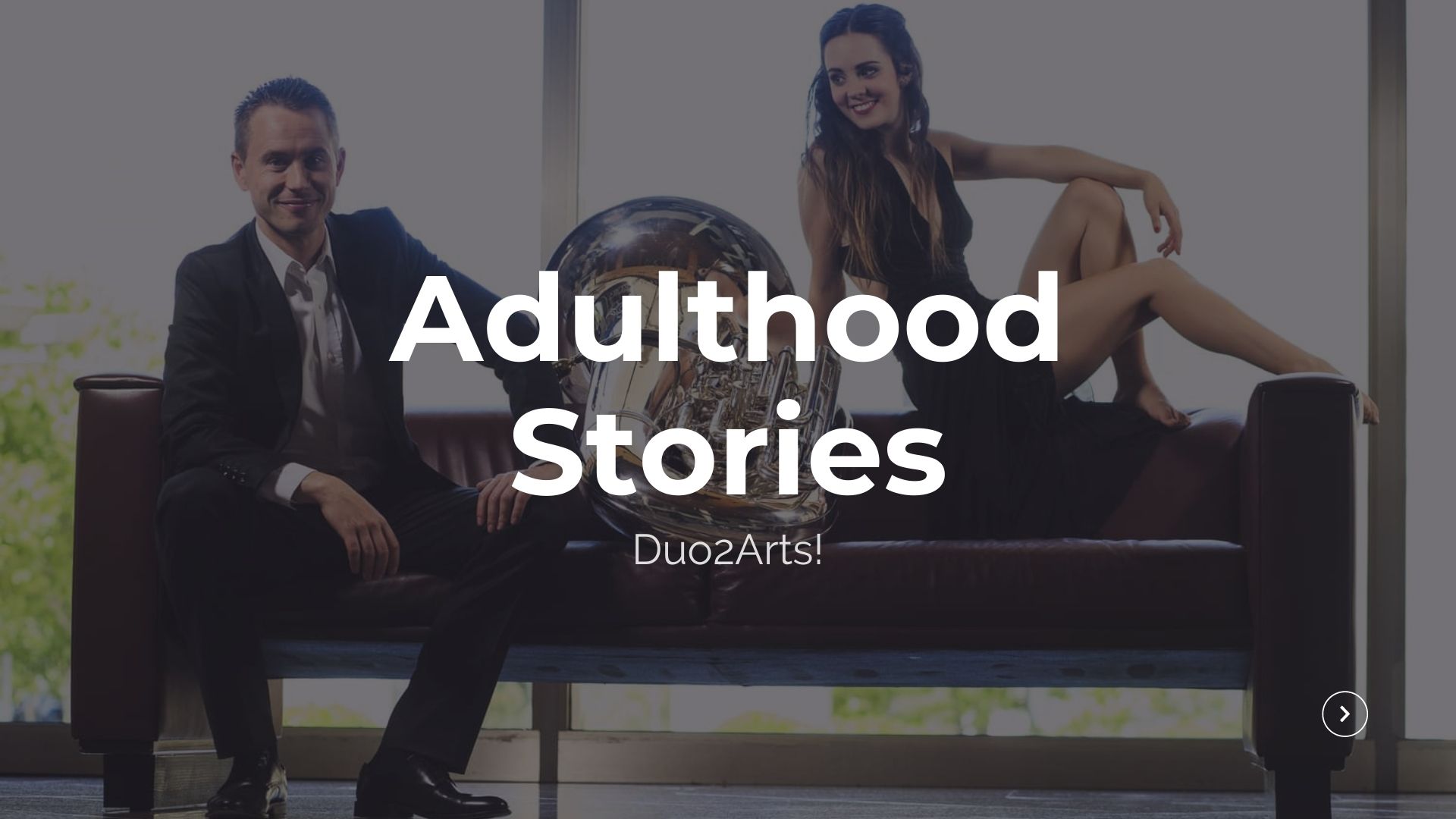 A pair of ballerina shoes that appear out of the blue, mesmerising movements, blushing faces which denote feelings, anxious moods, adulthood romances, dances that win hearts and more is what the public will experience attending this performance. These everyday scenes are told through the arts and will make people of all ages identify themselves with their own lives.
Timothy Higgins (1982)
"Poiesis" (Creation), for unaccompanied tuba (2013)
1. … para Arban
2. … para Igor [Stravinsky]
3. … para Ligeti
4. … para Dmitri [Shostakovich]
Robert W. Smith (1958)
"Teutonic Tales", for tuba and piano (2010)
1. Demon dance
2. Freya
3. Thor's Hammer
Erik Satie (1866-1925)
Gnossienne n. 4, for piano (1891)
Andrew Batterham (1968)
Concertino, for tuba and piano (2014)
Alexander Glazunov (1865-1936)
Elegy, Op. 17, for piano (Arranged by Ralph Sauer, 1944, in 2015)
Ricardo Mollá (1992)
Sherezade, for tuba and piano (2020)
60 minutes (Complete version)
30 minutes (Reduced version)
Torrelodones (Spain), Plaza de la Constitución — September 3, 2020
"It is like a Hollywood story, […] it is like a fairy tale, it is beautiful and very touching".
Juan de Torres
Artistic Director, #GESTO Street Dance Festival
Navalcarnero (Spain), Teatro Municipal Centro — February 23, 2020
"SPECTACULAR, the staging was INCREDIBLE, technically and artistically of the highest caliber, the quality of sound got me speechless. A very enjoyable performance that leaves you wishing for more".
Ana María Alonso
International Viola Soloist Principal Viola, Plural Ensemble
Boston (USA), Concert Hall, Boston Univ. — December 5, 2019 (World-premiere)
"What a truly amazing performance and touching storyline. It was our great honor to have Duo 2Arts and pianist David Jimenez here in Boston"..
Dr. Younggyo Lee
Artistic Advisor, Seoul Foundation for Arts and Culture
Artistic Advisor, Arts Council Korea
"Beautiful performance. Only the masterful tuba playing by Jose, the sensational dancing of Sherezade, and David's perfectly matched piano artistry could come together so grippingly. It was an honor to be there".
Carl and Claudia Shuster
Board of directors, Osher Institute for Lifelong Learning @ Berkshire Community College
San Francisco (USA), Concert Hall, SF Conservatory — December 2, 2019 (Preview)
"Bravo on a great performance at SFCM! It was a treat to hear you perform my piece with such ease. You played with beauty and expression throughout the whole performance, and it was a thrill to hear you again. The combination of all three of you onstage was magic, I hope you are looking to other projects in the future".
Timothy Higgins
Principal Trombone, San Francisco Symphony
Trombone Professor, San Francisco Conservatory of Music Trombone
Professor, Northwestern University
"Thank you very much for the marvellous performance and for sharing your artistry with all of us".
JEFF ANDERSON
Principal Tuba, San Francisco Symphony Tuba
Professor, San Francisco Conservatory of Music
Chicago (USA), Buntrock Hall, Symphony Center — November 27, 2019 (Preview)
"It is absolutely unforgettable. This absolutely must be seen to be believed".
Gene Pokorny
Principal Tuba, Chicago Symphony Tuba
Professor, Northwestern University
"Wonderful performance and world class playing. I loved everything. The project is growing and growing. Fantastic. […] The most important we have already achieved: it creates EMOTIONS in everyone who sees and listens to the performance. Just beautiful".
Sérgio Carolino
International Tuba Artist Principal Tuba, Porto Symphony Orchestra
"My soul is uplifted. Your performance still has a powerful impact on me. It must be seen again and again. Powerful love story with a happy ending".
Roger Rocco
International Brass Pedagogue
Seattle (USA), Brechemin Auditorium, U. of Washington — Nov. 24, 2019 (Preview)
"This show is fantastic. Jose and Sherezade have created a wonderful story through music and dance. The tuba/piano playing is reason enough to go, but then Sherezade takes it to another level. Go see this!".
John Dicesare
Principal Tuba, Seattle Symphony Orchestra
Artist in Residence, University of Washington
Villa del Prado (Spain), Centro de Artes — November 2, 2019 (Preview)
"A very pretty love story. Loving conversations between the tubists and the dancer, the dancer and the tubist, the tuba and piano duo. A delight!".
Rocio Ordóñez
Councilwoman for Culture, Equality and Health, Villa del Prado City Hall