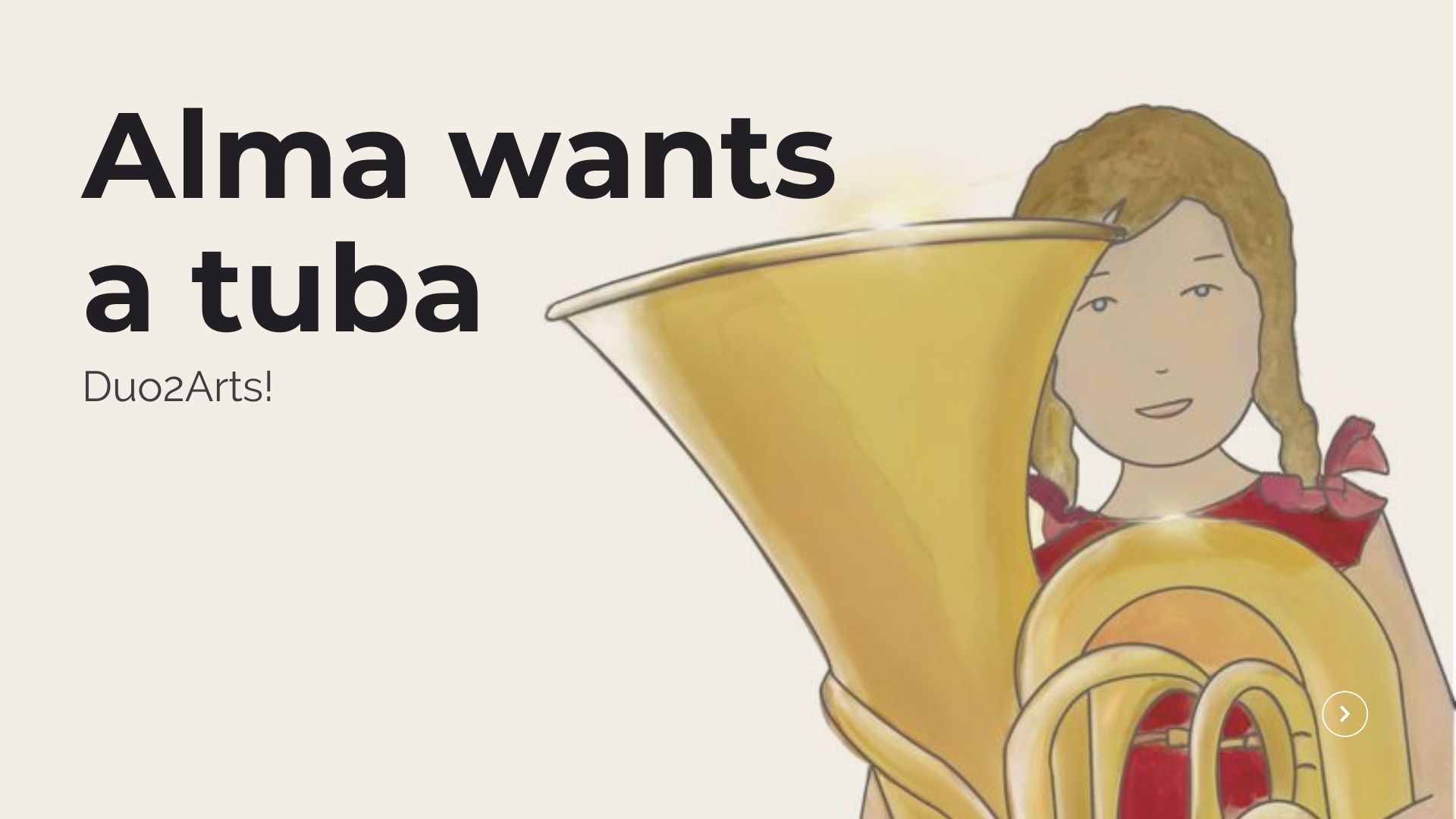 A sweet story about a girl who gets in love with the tuba and wants to play it no matter the circumstances of life. Based on a true story, Alma's music teacher tells her not to play the tuba because of the size so she is given a flute. Her mom tells her that the tuba is very heavy, noisy and expensive. For these reasons, Alma and some friends, who do not have access to other instruments either, decide to create the instruments themselves for a great time together. At the end of the story, Alma is finally seen performing a real tuba with the band from her town.
ALMA comes from the writer's need to share her love for the tuba with the always curious children. Ana María Alfonso, the writer, through the association "Uniendo Sonrisas Bierzo" wants to organize workshops for hospitalized children to help them know the instrument. When finishing the illustrations, she realized that the story lacks the presence of the deep tuba sound. That's why she contacts David Rivas. David is a composer with an enormous capacity to express emotions through his music and describe wonderful scenes through it. Absolutely generous with his time and always ready to collaborate on projects that help people, turns the words of the story into the perfect music. That way, the girl who wants a tuba feels sheltered by it and the sound of the piano.
David Rivas (1980)
"Alma wants a tuba", for tuba and piano, with narrator and a video production of the story in the background.
Piece created as a soundtrack of the book named "Alma wants a tuba" by Ana María Alfonso (2020)
Festive
Heartfelt
Cheerful
Festive
A Vals and a Tango
Enérgico alla Rock
Cheerful
15 minutes (Story)
45 minutes (Workshop)
In this 45-minutes workshop for kids and their families, they will learn how to make invented instruments out from a few simple things. Here is the list:
A piece of hose
A bunch of clamps
A funnel
Play dough or beeswax
"David Rivas' musical notes guide us through Alma's story and transforms the book into a fuller experience".
Ana María Alfonso
Creator, Alma wants a tuba